Sunday, March 25, 2012
« Previous: Comic: Spider-Hyphen-Man! Next: Yes! NEW issue of Geraniums and Bacon this weekend at Boston Comic Con! »
Hey! You know Womanthology, the massive book of comics by women creators (and Kickstarter phenomenon)?
It's on sale now now, and I'm in it!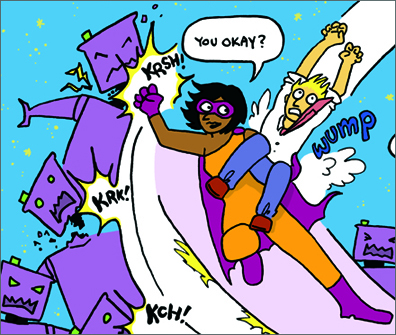 I illustrated a story written by Lisa Fortuner (@Ragnell on Twitter), comics blogger and real-life military heroine. Our four-page full-color tale is chock full of robot punching, secret identities, ray guns, and more man thigh than is honestly necessary. YEAH!
You can purchase Womanthology online or at comic shops around the country. And if you're a Boston-area local, you can swing by Union Square's Hub Comics this Saturday (March 31) from noon to 4 and get a signed copy! I'll be signing along with Womanthology creators/pals Ming Doyle, Ellen Crenshaw, Stacie Ponder, and the project founder Renae de Liz! Even if you don't want to pony up for the book itself, come and visit anyway! Hub Comics is a fantastic shop and there'll be plenty of other excellent comics to check out.
See you on Saturday!
Comments are closed due to technical issues. They'll be back at some point! In the meantime, you can reply to me via Twitter (@metrokitty) or email me directly via my contact form.