Thursday, June 21, 2012
« Previous: Mindful Eating: Learn all about it from my guest comic Next: Comics and Medicine 2012 conference »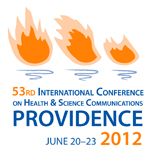 This Saturday, Iíll be delivering a talk on comics and healthcare at the annual conference for the Health and Science Communications Association!
Conference participants (and other interested readers): Here is the list of references from my talk!
Comments are closed due to technical issues. They'll be back at some point! In the meantime, you can reply to me via Twitter (@metrokitty) or email me directly via my contact form.