Monday, March 4, 2013
« Previous: Diabetes is After Your Dick! A health comic you may benefit from reading Next: Comics and healthcare interview with me on Diabetes Mine! »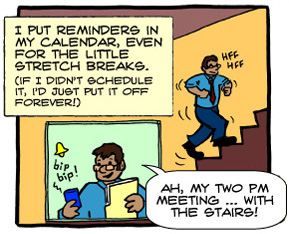 My latest webcomic for the MGH Diabetes Views blog is up!
It's about taking common excuses for not exercising and finding ways around them! I am the master of looking at speedbumps in my path and treating them like they're mountains, so believe me, this comic comes from the heart.
Comments are closed due to technical issues. They'll be back at some point! In the meantime, you can reply to me via Twitter (@metrokitty) or email me directly via my contact form.