What's going on here?
I'm Cathy Leamy, an East Coast cartoonist. Check out my comics! They're mainly about autobiographical stories and health care.

Twitter
Tumblr
RSS
Upcoming events - 2015
Small Press Expo
Sat-Sun Sept. 19-20
Bethesda, MD
Panel: Creative Collaboration in Comics Collectives, Sat Sept. 19, 12:30-1:30PM
(not exhibiting but I'll be attending all weekend!)
She Geeks Out
Thur Sept. 24, 6pm
Boston, MA
New York Comic Con
Thur-Sun Oct. 8-11
New York, NY
Panel: Content Literacy: Teaching STEM with Comics, Thur Oct. 8, 3-4pm
(not exhibiting, attending only on Thur. Oct 8)
Massachusetts Independent Comics Expo
Sat-Sun Oct 17-18
Cambridge, MA
Exhibitor! Buy my comics!
Blog archives
Blog Categories
Summer Reading List
Look for me here!
Comics and Medicine
Webcomics
Comics news
Comics creators
Assorted awesomeness
Monday, February 2, 2004
« Previous: well, shit Next: you know what else? »
On the good side, the Pats won the Super Bowl. Yahhh! Go Pats! Hometown pride!
On the bad side, idiot overenergetic fans decided to go nuts and light bonfires, chuck bottles, trash cars near Northeastern (again!), and knock down a bystander with an SUV.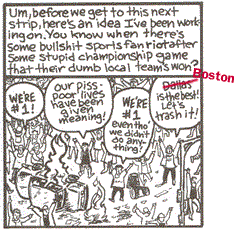 cartoon from Evan Dorkin's Dork!
You stupid fucks! Quit making my hometown look bad!
recent media intake
I haven't read much in the way of imported manga, but when I read reviews of Fake, I figured I'd give it a try. Nothing says "Hey Kitty come read me" like homoerotic comics about pretty-boy New York City cops. Yeah! The first volume is fun but a bit silly, though I've heard the later volumes get more serious. Reviews on those later. In the meantime, hell, I'm just grateful to have found fun Japanese comics that don't feature (a) post-apocalyptic cities or (b) fighting robot suits.
Comments are closed due to technical issues. They'll be back at some point! In the meantime, you can reply to me via Twitter (@metrokitty) or email me directly via my contact form.