about cathy leamy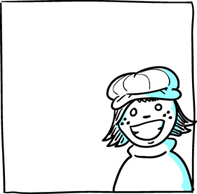 Cathy Leamy is a cartoonist on the USA's East Coast. She writes and draws the autobiographical/humor minicomic Geraniums and Bacon. Her anthology work includes stories in the Craigslist-inspired I Saw You... and Friends of Lulu's The Girls' Guide to Guys' Stuff as well as historical research and co-writing for the Marvel Comics collection Women of Marvel: Celebrating Seven Decades.
Cathy is a long-time member of the comics collective Boston Comics Roundtable; her stories have appeared in the BCR's anthology comic Inbound (issues #2, 4, and 5).
When she's not cartooning, Cathy works as a web developer in health care IT.
Follow Cathy on Twitter: @metrokitty
Send Cathy email: Contact form