about cathy leamy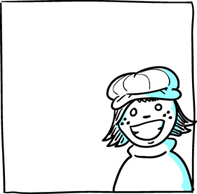 Cathy Leamy is a Boston-based cartoonist specializing in autobiographical and health education comics. Her work includes the minicomic series Geraniums and Bacon, the Suzie and Ray wellness webcomics for Massachusetts General Hospital's DiabetesViews blog, and research and co-writing for the Marvel Comics collection Women of Marvel: Celebrating Seven Decades. She is a long-time member of the comics collective Boston Comics Roundtable; her stories have appeared in the group's anthologies Inbound and In a Single Bound.
Cathy's educational background includes an MS in health communication from Tufts University, a BS in computer science from Northeastern University, and a certificate in graphic design from Massachusetts College of Art and Design. She has given talks on the use of comics in healthcare for the Health and Science Communication Association and Nerdnite Boston.
When she's not cartooning, Cathy works as a medical editor and writer, focusing on primary care and preventive medicine.
Interested in collaborating on a project?
Looking for a speaker to talk to your organization about comics and healthcare? Send Cathy email! Contact form
Twitter: @metrokitty
Tumblr: metrokitty.tumblr.com