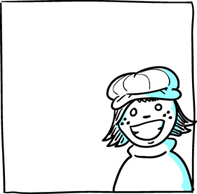 Comics are awesome!
Hello! I'm Cathy Leamy, and I love making comics! Take a look below for my print comics, online comics, and mailing list for news.
Let's go and read some comics
Online comics to read right now!
Health and Wellness
Geraniums and Bacon excerpts
Pop Culture Junk
What's the Word? Diary comics
Life with Kitty
Invitation to Madness
Print comics to buy
Mindful Drinking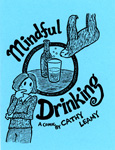 If you're looking to cut down on drinking, why not give mindfulness a try? Part autobio and part health education, this minicomic unpacks drinking habits and provides advice on slowing down from an unexpected source: A sloth!
Preview the whole comic for free online!
16pp, $2.50 (includes shipping)
Diabetes is After Your Dick!

Did you know that diabetes can lead to erectile dysfunction? This humorous health education comic explains diabetes, how it can cause ED, and how you can reduce your risk. Get the scoop on something the pamphlets in your doctor's office might not cover. Rated M for Mature!
Also available to read online!
16pp, $2.50 (includes shipping)
Geraniums and Bacon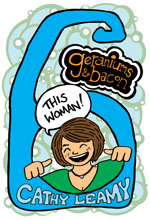 Half giggles, half introspection, all comics! This humor anthology bounces from topic to topic and back again: Dreams, religion, self-esteem, acne, punchbuggy, and more!
Issue 6 see a sample
Ballroom dancing! Anxiety! Peeing in Switzerland! Plus a werewolf. That last one's not autobio.
20pp, $4.00

Issue 5 see a sample
Wacky scrapes! Kitty survives bra shopping, lonely nights, medieval English mecha, and the Filene's Basement Bridal Sale
20pp, $2.00

Issue 4 see a sample
The travel issue! Kitty journeys solo to Dublin, loses her luggage in Florida, and loves on public TV personality Rick Steves.
20pp, $2.00

Issue 3 see a sample
True confessions! Adult ed classes, inappropriate thoughts, ethical grooving, and Kitty going to the movies!
20pp, $2.00

Issue 2 see a sample
Writer's aids, home cleaning products, and the geekiest dream sequence ever.
20pp, $2.00

Issue 1 see a sample
Self-esteem, a faith crisis, what little kids dream about, and more.
20pp, $2.00

The whole series of Geraniums and Bacon!
Get a mega-dose of mini-comics: all six issues of Geraniums and Bacon

Greenblooded: An Introduction to Eco-Friendly Feminine Hygiene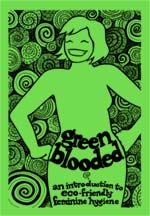 Plenty of "how to make your life more green" resources out there, but what's a topic that they tend to avoid? Greener ways of handling your period! This nonfiction mini gives you the basics of several eco-friendly alternative products as well as facts about the menstrual cycle and discussion about why this is a relevant issue. Appropriate for teens and up, lots of little cartoons and jokes, good reading for girls and guys alike!
12pp, $2.00 (includes shipping)
What's the Word?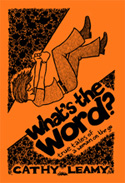 It's diary comic time! If you like Geraniums and Bacon, you'll love this day-to-day lite version of autobio comics. Includes strips originally published on my Metrokitty blog plus three bonus strips only available in print!
16pp, $2.00 (includes shipping)
I Survived Gwar

Gwar performed in my hometown, and even though I'm the wimpiest little girl and not even a huge fan of hardcore metal, I went to the show. What? It's Gwar! And then I created a minicomic about it.
16pp, tiny-sized, $1.00 (includes shipping)
Reggie & Brian and the Lousy Nickname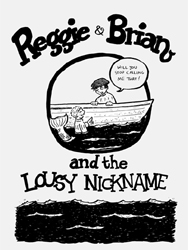 Fun in the sea with Reggie the little fisherman and his merman pal Brian! Reggie is saddled with a crummy nickname by the fishing boss - can Brian help him find a way to get rid of it? Boats, barnacles, and waves galore in this all-ages mini - suitable for kids and good times for grown-ups too
20pp, $3.50 (includes shipping)
Comics and writing for other publications
Women of Marvel: Celebrating Seven Decades: For this fun collection starring Marvel Comics' women characters, my pal Jeph York and I collaborated on historical research and writing introductions for each decade. If you want to know where Psylocke and Ms. Marvel fit into history with Rosie the Riveter and Billie Jean King, this is the book for you.
Womanthology: Yeah, the Kickstarter phenom comics anthology highlighting women creators! I teamed up as an artist with writer Lisa Fortuner for a colorful four-page story about alter egos, love, ray guns, and kicking the poop out of robots in space.
Inbound: I'm a long-time member of the comics collective Boston Comics Roundtable and contribute to their comics anthology, Inbound. Look for my double-identity story "unWendy" in Inbound #2, my tale of Boston's world-famous burlesque theater "The Old Howard" in Inbound #4 - A Comic History of Boston (also adapted as a short radio drama by WBUR's Radio Boston!), and my two-page giggle at a nutty English tradition "Chase That Cheese!" in Inbound #5.
I Saw You...: The Craigslist Missed Connections-inspired anthology I Saw You... has my one-page comic "Hello There Doctor Love" (aka, the one about the colonoscopy).
The Girls' Guide to Guys' Stuff: An anthology of guy-inspired comics by women published by Friends of Lulu, The Girls' Guide to Guys' Stuff has my short comic "Who Loves Neckties?" (spoiler alert: it's me, I like neckties!).
And Don't Forget the Droids: The third in a series of Star Wars fan comic anthologies by indy comics creators, this issue includes my little story "Found in Translation", which reveals that R2D2 might not exactly be the most awesome coworker ever.
Planet Wifey: In 2009, I collaborated with writer Clarence Smith Jr. and drew his married-life webcomic Planet Wifey. My strips are available in the archives from February - October 2009.
Mailing list
Do you want the skinny on when new comics are available? Click here to join the mailing list!