Thank you!
Thank you to all who donated towards Hartford Food Not Bombs' work in New Orleans! Your generosity has been great and very much appreciated.
To read more and support ongoing efforts, please visit one of the following sites:
News and Updates
Thursday, October 20, 2005
Chris is back in town - here is his news:
"Hey there - Chris here. I'm back in Boston for a couple weeks, tying up loose ends and plan on being back in New Orleans around Halloween. When I left on Sunday, the Rainbow kitchen in Washington Square Park was picking up - it's the end of the first week of activity and about 200 people are being served a day. Volunteers of all stripes are still needed though, for this project and for any of the other projects that the kitchen mingles with - people good at cooking, construction, electrician work, demolition, bicycle building, medical work, etc. etc. - again, if you want to start with checking out the kitchen go to the park on the corner of Dauphine and Elysian Fields Ave. - meals are served between 7:00 AM and 7:30 PM every day and they're super yummy. If you have any fresh produce to offer the kitchen, you can guarantee yourself a seat in Volunteer Heaven because although the meals getting cooked are healthy there's not a lot of fresh produce going around given the shaky conditions in the city. Thanks, g'night."
Wednesday, October 12, 2005
Apologies for the delay in updates! Here is the latest news from Chris: members of Food Not Bombs, the Rainbow Family, and others have established a kitchen in Washington Square Park, New Orleans, near the corner of Elysian Field St. and Dauphine. They are cooking for many people every day and things are going well. Their cooking plans are indefinite for the moment - they plan to be there for a while. He also mentioned possibly setting up a clinic there as well (if this has not already happened). Thanks again to everyone for your support! If you are in New Orleans, please stop by Washington Square Park and say hello to everyone.
I've also found an online radio segment on this cafe that includes talk with Ross from Food Not Bombs Hartford at this site: http://radio.indymedia.org/news/2005/10/7119.php
Wednesday, September 28, 2005
A report in from Chris: He and others managed to get out of New Orleans' Ninth Ward safely before the new flooding caused by Hurricane Rita. They're doing fine, except for Ross who has suffered a gashed leg from a tree branch whiplash while chopping up a tree with a chainsaw (the leg was promptly stitched up).
Thursday, September 22, 2005
Updates from Chris:
"hey there - ross and i are hanging in the 9th ward, new orleans. with the FNB arizona folks, we're serving meals to those sticking around through all this mess who pop through the neighborhood, and doing mobile meals-on-wheels runs to an ever-increasing roster of elderly folks and other locals who are staying put in their house. setting up with the folks of raceland, la didn't materialize unfortunately - bret left our group to go back home and no one else was moved enough by my report back after scouting the area for a day (with Geroge Seaman from Prescott, AZ), on top of the added pain in the ass of a new hurricane threat. so we're sticking it out here in the 9th ward until any signifcant change pops up. it's blindingly hot and the roaches are huge, but the people are great."
Tuesday, September 20, 2005
Updates from Chris:
"yo yo. chris here - dripping sweat over everything (except food) - just wantd to say that things are pretty neat here, 3-4 of us have broken off to cook and help out in Waveland and the Arizona FNB kids with one Hartford FNB dude are still in the 9th ward. it looks like we're going to be plugging in here for a bit, and scouting out one last location deep in the bayou at got pretty effed up - just need to take a visit and then decide who's doing which. it's interesting and exciting though, waveland is crammed with hundreds upon hundreds of folks mowing down on food every day and is a total inspiring and harmonious demographic mash-up! thanks for the donations again as well!"
Friday, September 16, 2005
Updates from Chris:
"hey, chris here. we're still doing supply runs every day and cooking some at night, but we're probably going to be breaking camp at covington and finding a place near slidell that's inbetween new orleans and the devastated areas on the mississippi gulf coast, because that's where we're finding ourselves most effective. some of us are now breaking off during the day to cook with the rainbow family who set up in waveland, mississippi while other are scouting out a location today in the NOLA's 9th ward to hopefully get some nice community kitchen action up there to riase spirits and feed people good food.
but besides that, it's supply runs and assistance at various devastated locations. algiers isn't really happening for our group, there are plenty of folks there who are already holding things down and we've decided that we would just be crowding the scene. but we're active and could still use any donation if you feel like sparing anything - so please do! awesome... and more to come."
Tuesday, September 13, 2005
At the moment, the group is still based out of Covington, Louisiana. During the day they are helping with relief work outside of Food Not Bombs and making runs to distribute provisions. The next planned step is to be cooking very shortly in the Algiers neighborhood of New Orleans, next to a wellness center set up by the medics mentioned in the last update.
Friday, September 9, 2005
The group is now in Covington, Louisiana, where they will be serving meals until they get the go-ahead to proceed to Alexandria, LA.
Alexandria, LA, is right in the middle of the state and is home to an unused National Guard base which will provide temporary housing and facilities to evacuees.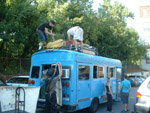 Preparing the bus for the trip
An update about the group and the people they have been traveling with: One of the members of the original group that left Hartford is an EMT and part of Action Medical. In Nashville, he linked the group up with medics from Mayday D.C, and the groups did a two-day convoy together down to Covington. Right now, the Action Medical and Mayday D.C. people have splintered off to be more directly useful elsewhere.
Note: Does Action Medical have a website? Please send me the link if you know it.
Thanks to Mad Hatters Independent Media Center for sending the Mayday D.C. link!
About the Project
Food Not Bombs Hartford is mobilizing NOW to aid those in need in the wake of Hurricane Katrina. Our faithful blue bus (a short school bus) is loaded with thousands of pounds of food, medical supplies, clothing, tents, and baby supplies in addition to a mobile kitchen setup. We are leaving for Baton Rouge, Louisiana on Tuesday September 6th and meeting up with Food Not Bombs groups from Philadelphia, San Antonio, Washington D.C., New Jersey, and possibly more. Upon arriving we will set up a mobile kitchen to feed the hungry, and distribute what we can in terms of medical supplies, baby formula, tents and serve hot, healthy, vegetarian meals to those in need.
We plan to stay about a month, or until money runs out. Thanks to generous donations so far, we have raised over $1500 in addition to receiving medical supplies, food, clothing, and other provisions as of Saturday September 3rd. Since transporation costs have mostly been covered, anything you can donate will go directly towards aiding hurricane evacuees, be it with meals or other provisions, with no funds being sapped by bureaucratic overhead costs. Although we have raised enough money to get to Louisiana and hit the ground running with aid, we will probably be cooking 750-1000 meals a day and money will run out fast. Please, please donate anything you can toward food and supplies.
For more information on Food Not Bombs and the nationwide FNB Hurricane Katrina effort, please check out www.foodnotbombs.net
Thanks to Donors
Many, many thanks to all who have donated so far!
Ben Thomson
Roderick Thomson
Carsten Poetter
Nicole Phillips
Nick Von Frankenburg
Alex Fethiere
Dan Kearney
Joyce Harmon
Bill & Judy Leamy
Heidi Goodson
Cathy Leamy
Eian Weissman
Matthew Earp
E. Charles Schneeflock
Carol Meyers
Robert Rowe
Kristin Albrecht
Steven Friedman
Michael Bandes
Morgan Packard
Brian Myones
(list last updated 9:30am Thursday September 22)